Smedley Butler on Interventionism
-- Excerpt from a speech delivered in 1933, by Major General Smedley Butler, USMC.
War is just a racket. A racket is best described, I believe, as something that is not what it seems to the majority of people. Only a small inside group knows what it is about. It is conducted for the benefit of the very few at the expense of the masses.

I believe in adequate defense at the coastline and nothing else. If a nation comes over here to fight, then we'll fight. The trouble with America is that when the dollar only earns 6 percent over here, then it gets restless and goes overseas to get 100 percent. Then the flag follows the dollar and the soldiers follow the flag.

I wouldn't go to war again as I have done to protect some lousy investment of the bankers. There are only two things we should fight for. One is the defense of our homes and the other is the Bill of Rights. War for any other reason is simply a racket.

There isn't a trick in the racketeering bag that the military gang is blind to. It has its "finger men" to point out enemies, its "muscle men" to destroy enemies, its "brain men" to plan war preparations, and a "Big Boss" Super-Nationalistic-Capitalism.

It may seem odd for me, a military man to adopt such a comparison. Truthfulness compels me to. I spent thirty- three years and four months in active military service as a member of this country's most agile military force, the Marine Corps. I served in all commissioned ranks from Second Lieutenant to Major-General. And during that period, I spent most of my time being a high class muscle- man for Big Business, for Wall Street and for the Bankers. In short, I was a racketeer, a gangster for capitalism.

I suspected I was just part of a racket at the time. Now I am sure of it. Like all the members of the military profession, I never had a thought of my own until I left the service. My mental faculties remained in suspended animation while I obeyed the orders of higher-ups. This is typical with everyone in the military service.

I helped make Mexico, especially Tampico, safe for American oil interests in 1914. I helped make Haiti and Cuba a decent place for the National City Bank boys to collect revenues in. I helped in the raping of half a dozen Central American republics for the benefits of Wall Street. The record of racketeering is long. I helped purify Nicaragua for the international banking house of Brown Brothers in 1909-1912 (where have I heard that name before?). I brought light to the Dominican Republic for American sugar interests in 1916. In China I helped to see to it that Standard Oil went its way unmolested.

During those years, I had, as the boys in the back room would say, a swell racket. Looking back on it, I feel that I could have given Al Capone a few hints. The best he could do was to operate his racket in three districts. I operated on three continents.
If men do not now succeed in abolishing war, civilization and mankind are doomed.
– Ludwig von Mises
One of the most profound comments on war and defense ever made was written towards the end of WW-I by Randolph Bourne: "War is the health of the State." His observation turns conventional wisdom (that government - the State - exists to protect citizens) clean on its head; he is suggesting that in wartime, the State flourishes as in no other situation, extending its power and influence in sometimes irreversible ways and even commanding deep loyalty and obedience by those citizens.
The thought is that rather than striving always to avoid war, perhaps governments often seek war so as to increase their own popularity and/or power at home. That would certainly help explain why wars take place so very often.
1. "Defense"?
Since the mid-1900s in the USA the government war function has been called the "Department of Defense" rather than that of "War." Perhaps the new name makes it more palatable - but let's check some history. Please now call to mind the most recent year in which America needed "defending" from an unprovoked attack by a foreign enemy:

Those years are the most obvious times when this country was apparently in peril, and the striking thing about the answers is that there is not a single case among them when there was a clear, unambiguous, unprovoked attack or threat of one. This therefore raises the question: why is a "Defense" function needed? Was Randolph Bourne right - are the Feds in the business of initiating war, rather than preventing it?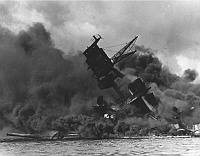 The most popular American war was WW-II - after it had been so deceptively started, by FDR. Everyone was deceived into thinking Japan had mounted a wicked, surprise attack and desire for revenge was almost universal; Hitler obliged FDR by declaring war on the US shortly afterwards and so the stage was set for the deadly drama that ended in Berlin and Nagasaki four years later. FDR, though he did not live to see it, achieved his evident ambition to place the USA in a world-dominating position, which it still retains; history (being always written by the victor) uses the savage murders of millions of Jews as its "justification" - even though in 1941 no large-scale death camps had even been built and even though FDR had turned back a shipload of Jewish refugees in 1939 when they applied for asylum in the USA.
Popular it may have been; but it was as devastating as all other wars, and wholly needless from Americans' point of view. Had FDR not aggravated Japan in July 1941 there would have been no Pearl Harbor; absent Pearl, the 80% of Americans opposed to intervention in Europe would have prevailed; absent US intervention or the prospect of it Britain would have had to reach an accommodation with Germany such as Hitler repeatedly sought; absent that Western Front Hitler would almost certainly have prevailed over the Soviet Union and a German-dominated peace, of sorts, would have been restored in Europe. That would have been dreadful, of course, but it's quite possible that Jews would have been allowed to emigrate (as they were actually, through 1940) rather than be murdered; and it's certain that the horrendous death toll of about 65 million human beings would never have been suffered.
So much for the so-called "good war" that took over 400,000 American lives. Some of the non-defensive American wars since 1900 are as follows:
Spanish-American War 1898-1902
Philippine-American War 1899-1901
Mexico Intervention, 1914-17
Mexico Intervention again, 1918
Soviet Union Intervention, 1918
World War I 1917-18
World War II 1941-45
Korean War 1950-53
Vietnam War 1964-75
Iran Hostage Rescue Attempt, 1980
Grenada Invasion, 1983
Panama Invasion 1989
Gulf War 1991
Haiti Invasion 1994
Kosovo Intervention 1999
Afghan War 2001 -
Iraq War 2003 -
In all these cases the Feds created an apparent "justification" for war which the population swallowed - at least for a while. Sometimes the government resorted to outright fraud to create that support, as in the case of Pearl Harbor and the Gulf of Tonkin. Usually, support evaporated when the promises of easy victory failed to materialize and as the body bags came home.
Conclusion so far:
Government involves Americans in wars large or small every few years, without any defensive need
---
Q & A
Q: What makes you or your information different to other whistleblowers Kawaja? And why has no Mainstream Media picked up on all that you put out since 1991 but give coverage to numerous other whistleblowers in the last few years?
A:
Great questions, thanks for writing. Most all whistleblowers like:
Daniel Ellsberg, Julian Assange, Edward Snowden, Bill Binney, Russ Tice,
and untold others (who are all American Heroes and I stand in line thanking them for their courage); they have mainly (to my knowledge) outed "general government corruption" (but yes, truly heinous crimes in my opinion which could lead to criminal prosecutions) whereas Peter Kawaja outed pre-meditated Criminal Activity of the US Congress and President equaling to and greater than the Nuremberg War Crimes. Not only killing your own citizens, your own military, but crimes against all humanity. As the Financial Times of London/ABC stated many years ago to Kawaja (tape recorded) when Kawaja asked why did ABC-Nightline/Ted Koppel not air the entire Gulf War Crimes, their answer "
We do not wish to topple the entire US Government
".
Even members of Seal Team Six have felt the betrayal of their own government (US CONGRESS) for writing a book and making it public without approval of CIA. And BTW - this is why 99.9% of ALL books written about Operation Desert Storm / Gulf War / Gulf War Syndrome, are a FRAUD as every author had to get their book "approved" by CIA, that includes Garth Nicolson and Alan Friedman. This is akin to asking the bank robber who shot the pregnant bank teller if it is okay to tell the police his name and you saw him do the shooting.
ALL these books have been "sanitized" and all carry the same (government approved) theme of the Riegle Report, another misinformation campaign (and crime).
WACO attorney Linda Thompson said it back in 1997
"Military Intelligence has the best whores money can buy. Most (claimed) patriotic Radio & Internet sites have been bought out and now controlled by your Oppressors".
Sat Aug 28, 2004 18:13
67.14.223.3

Email from Wes Thomas to Linda Thompson who introduced Joyce to Kawaja:

Linda:

You said: in the now well-worn tactic of putting out a phoney "expert" on the information, to lead people astray (Joyce Riley). Whoa, are you saying Joyce Riley is a disinfo op? Can you amplify? This is major news. I wondered about her connection to the Art Bell show. Let me know if your response can be posted. I'd like to get more info on this. I emailed Peter for his documentation. He's a little wordy and hard to follow but his information, especially hard documentation, is excellent.

Wes

To: Wes Thomas
From: lindat@snowhill.com (Linda Thompson)
Subject: Re: Joyce Riley
Cc: pkawaja@dnet.net
You can publish it all day long. Every indication is Joyce Riley is not only a paid whore, I have other information that the people she works with are (1) military intelligence and (2) were involved with some major terrorism in this country.
When Peter Kawaja came out with his information, it was virtually IMPOSSIBLE to get it out anywhere. I tried and Kawaja had his house burned down for his troubles. His documentation is unimpeachable.

Kind regards,

Linda Thompson
Dr. Linda Thompson Attorney at Law Chairman, American Justice Federation
Internet: lindat@snowhill.com
****************************************************************
Remember Waco. The Murderers are still free (and running YOUR country).
****************************************************************
As for Art Bell, xxxxxxxxxxxxxxxxxxxxxxxxx
Most of the "patriot" radio stations and programs are GONE. They have been purchased, in EVERY case, by groups with military intelligence backgrounds and connections. What is left is a phoney bunch of whores.
Kind regards, Linda Thompson
Dr. Linda Thompson, Attorney at Law
Chairman, American Justice Federation
Internet: lindat@snowhill.com
*************************************************************
NEW DAY - SAME MISCREANTS LEADING YOU OFF THE SLIPPERY SLOPE
THE SADDEST CHAPTER OF AMERICA'S HISTORY


IS NOW BEING WRITTEN (1994)
[excerpt from 8-page document]

........THIS INFORMATION WILL SHOCK, SURPRISE, AND SADDEN YOU, BUT YES,
THE WORST IS YET TO COME IF AMERICANS DO NOT WAKE UP.
A nationwide/worldwide panic is going to be created, of such magnitude, that it will threaten our very existence. This same government will then step in to offer a solution, they will have "an antidote" (VACCINE), BUT, only those who will accept the Medical ID (national id/CHIP) will be treated, all others will be considered a danger and threat to society, hunted down, and imprisoned or killed. Americans will welcome this solution, will turn-in their neighbors and friends in order to survive themselves. At the same time, this instrument WILL permanently, publicly SUSPEND THE CONSTITUTION OF THESE united STATES, to allow United Nations Rule (controlled by the shadow - Serpent People), a One World Government. AMERICA & THE WORLD WILL BE ENSLAVED.
They are preparing you for what they already know and have planned. It is not by an accident of nature, or terrorist attack, it is by purposeful planning, and it is HERE.

Penned in 1994 By: Peter Kawaja
NOW YEARS LATER:
Welcome to HOMELAND SECURITY - Perpetual Global War of Terror